Happy Wattle Day! In celebration, we've pushed out the latest Release Candidate of Signata, available for download now on the Signata website.
This is still Windows only at the moment. The Mac release is the next priority for us to sort out (the delay of it's release is not a technical problem, it's just a paperwork problem).
Vault-Only Addresses
The biggest feature we've added in this release is our new "Vault-Only Addresses" page - oh and we now refer to them as Addresses instead of Key Pairs. Whilst all cryptocurrency addresses are really just Key Pairs, we found that we were always having to explain to people that they were just addresses. So, we've made it more clear in the app: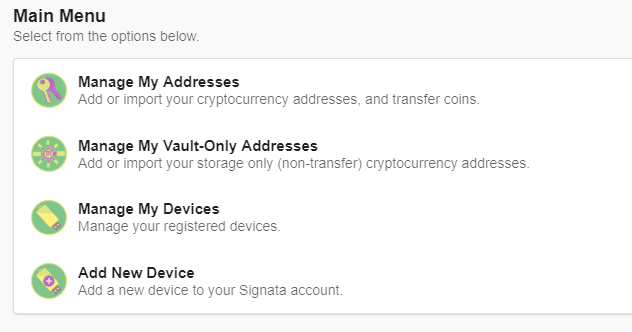 More Address Types
We did promise to add more address types, and we have. For normal address types we now support:
Bitcoin (BTC)
Ethereum (ETH)
Litecoin (LTC)
Dash (DASH)
Dogecoin (DOGE)
And then for Vault-Only addresses, we have:
Ripple (XRP)
Bitcoin Cash (BCH)
Zcash (ZEC)
Why are they vault-only? At this stage we don't have a a back-end service set up to handle transfers with those key types. They can still be used though - simply create or import addresses (of any type), use that address to receive coins, and then when you're ready to move them simply use the Export function to get the private key to import into other applications or exchanges.
We've got an idea on how we can support most of the major coins, we're just testing the idea now. Stay tuned for updates!
Bug Fixes
We've squashed quite a few bugs in this release, and made some improvements. These include:
The website looks better on mobile with a collapsing menu.
The navigation menu now floats over every page for easier navigation.
We fixed a fair few height consistency issues across all the pages.
We've fixed a bug with the sign-up form when validating password strength.
We've stopped the add device workflow requiring an active subscription.
Known Issues
The desktop app sometimes looks like it's doing nothing when it's interacting with YubiKeys - we have a big fix in the works for this, and it'll add a huge new capability to the product that we'll be blogging about :)
If you don't have a subscription, adding Addresses won't work. It won't prevent the Add Address workflow from starting though, it just won't add the keys when you click the Submit button. For now you'll need to make sure your Subscription is active before you try to add any.
Blockcypher (BCY) addresses are able to be generated. These are not meant to be in the production version, but they've snuck in. You can create/import them if you really wish, but they are a test-only chain. We'll make sure these get removed.
Feedback
If you install the latest version please let us know your thoughts, feelings, if you've run into bugs, or if you have any feature suggestions. We'd love to hear from you!